DUTCH BIRD - DIRECTORS NOTES
ABOUT THE DIRECTOR
Trained by the UK Brighton Film School, Kirk Weddell is a passionate writer and director dedicated to emotive character driven storytelling.
With experience on both sides of the camera he is conversant with every element of the filmmaking process which he believes essential to mould his vision and put the page onto the screen.
DIRECTORS NOTES
THE CONCEPT
The concept for 'Dutch Bird' came from a true story involving drug traffickers who were using carrier pigeons to fly contraband across the Pakistan/India border. I wondered how a small Irish community would take such news and the seed was sown!
It's always a good idea to write a character with an actor in mind, from the outset I knew that the protagonist Seamus Kerrigan would be written for David Kelly. I have always admired his work, seeing him perform always brings a smile to my face.
I pitched the script to his agent, the lovely Joan Brown, who agreed to send Mr Kelly a script. The next day I was greeted with a resounding Yes! What a wonderful moment it was when David agreed to play the role, I knew then we had the makings of something special.
As the script rewrites continued the team was assembled. With David Kelly in place and a strong concept we were in the very fortunate position of being able to select a very experienced cast and crew. Arri Media/Lighting and Kodak also came on board to help with the project.
THE CAST
Christopher Dunne was chosen to play opposite David Kelly and I was very pleased with my choice. Christopher was totally dedicated to the project and put in a wonderful performance.
The role of Garda O'Ryan I knew would be a tricky one to fill, he had to be officious and yet have a believably warm humane element. Maurice Gleeson immersed himself in the role and provided some wonderful moments both on and off screen, his dedication and professionalism again shone through.
The nemesis came in the form of two likeable rogues, Fergal (Joe Wiles) and Johnny (Adam Chapman), they bonded from the outset and made a great double act.
Mike Hayden, a delightful man, picked up the role of the Chairman late in the day and put in a solid performance as the head of the community.
THE SHOOT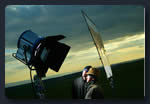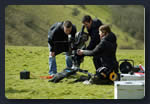 The decision was made to shoot the Principal Photography in and around Brighton. After extensive location research we really felt that we would have been hard pushed to find anything better in Ireland for our purposes and with a first class production design team, the Sussex town was transformed into the Emerald Isle.
During the Principal Photography we suffered the usual array of unforeseen technical problems which lost us about a half a day but the whole team banded together. I knew from the outset that everyone would be there until the last roll of film and that was comforting as a Director.
Shooting on a 6:1 ratio there really was no room for error. Many times it literally was One Take and that is a testament to the whole cast and crew for working so professionally and rising to the challenge. To work with such a pleasant and totally dedicated team who gave up four days of their lives for my vision was a wonderful experience in itself. I hope that everybody gained something from the experience.
THE EXPERIENCE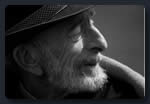 For me personally the six months of work was worth every moment to share the experience with David Kelly. He surpassed even my greatest expectations, an absolute gentlemen who enamored himself to one and all and allowed his professionalism and experience to seep through the production.
To catch his interpretation of 50 years of acting experience and watch him transform Seamus Kerrigan from page to screen was an experience I will always cherish.
I would like to say a very special thank you to Arri Media/Lighting and Kodak for being so generous and supportive of the project.
Kirk Weddell
July 2005